As a Politics, Philosophy and Economics student I only came across the risk management industry after studying at a business school in France. The opportunities for innovation and specialisation make it a particularly attractive career choice, but when describing the industries to graduates, its focus on relationships and creativity is often left out. Events demonstrating the responsiveness of the sector to emergent risks and the collaboration demanded by such a global venture go a long way to encourage graduates to think about careers in these areas.
FERMA's Risk Management Forum provided a great venue to see industry intersections, and the challenges faced by risk professionals. Technology played a key role in both areas, opening new opportunities to monitor risks whilst also posing challenges around cyber security and GDPR regulations.
Lloyd's of London CEO, Inga Beale, emphasised humility as a key attribute of a successful leader, stressing the importance of bringing in experts to learn from and be challenged by. However, the welcoming nature of the Airmic team and openness that I experienced at the Forum provided me with the best examples of good leadership.
"A can-do attitude is contagious, you will see and create opportunities"
I found the Forum's focus on education particularly inspiring. Within the group of student representatives there was a huge appetite for learning about emerging risks and strategies to respond to rapidly changing environments - so it was extremely encouraging to see that this appetite permeates all industry levels.
A personal highlight was the Ladies' Lunch chaired by Airmic's technical director and deputy CEO, Julia Graham. The event was extremely empowering. The panellists, Veronique Brionne, Nadia Cote and Wilma de Bruijn, used their own experiences to show how women can use their strengths and passion to transform their respective fields. Panellists emphasised the need for women to identify what drives them and use this passion to connect with others - a standout statement for me was that "a can-do attitude is contagious, you will see and create opportunities."
For me, the biggest takeaways from the conference were to continue to pursue all opportunities to advance my knowledge of the industry and expand my skill set, as well as continuing to connect with others. As a PPE student I am particularly interested in political risk, so the emphasis I saw at the Forum on companies adapting to turbulent political events was very encouraging, and I hope to pursue a career in this field.
FERMA's Forum offered a fantastic taster of the future of risk management - a future I hope the other student representatives and I can help shape and challenge.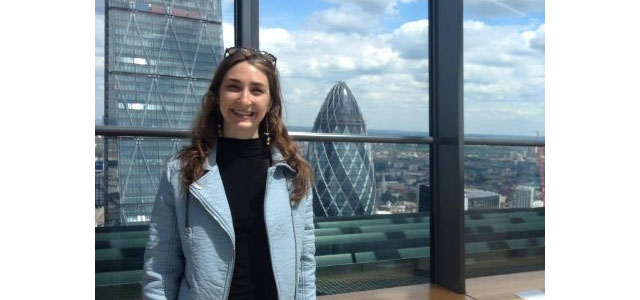 Lily O'Neill, third year Politics, Philosophy and Economics student, Exeter University