Policyholders, brokers and insurers are well prepared for the Insurance Act as the new law comes into force, a poll of Airmic members has highlighted. The Act came into force on August the 12 following an 18 month transition period.
A survey of the association's membership, conducted in the two weeks prior to the implementation date, revealed that over 90% of respondents feel fully prepared or relatively prepared for the law change. Satisfaction with the preparedness of the wider market was similarly high: 90% feel their brokers are at least relatively prepared, and 85% feel the same about their insurers.
The results show the market has come a long way in under a year. When asked about the Insurance Act in September last year, only half of a sample of Airmic members said they felt prepared for the new law.
John Hurrell, Airmic CEO, welcomed the official implementation of the Act and praised the market for its efforts. "The new law represents a fundamental change in how insurers and buyers do business and the amount of work and cooperation required cannot be understated. Our survey results are therefore extremely encouraging: the whole market should be congratulated on coming this far."
He added that there is more work to be done by all in the market: "The Insurance Act is about more than changing procedures, it's a change in culture and this can only develop over time. It will be a while before we see the effects of the Act filter through and we therefore urge insurers, policyholders and buyers to continue to work together and to communicate feedback as openly as possible."
The Insurance Act will update the Marine Insurance Act, a measure that has provided the framework for all commercial insurance purchased in the UK for over a century. The changes being introduced will provide policyholders with greater protection while bringing the UK in to line with other insurance markets.  Airmic has regarded it as out of touch with modern business and has been urging reform for several years.
The survey also revealed that the vast majority of respondents have discussed compliance to the new law with their brokers and reviewed internal processes to comply with new requirements for the fair presentation of risk. However, less than a third believe they are already contracting to the requirements of the Act.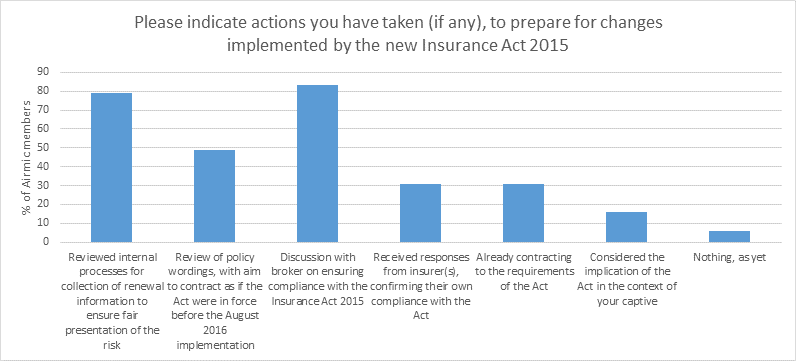 Airmic will be continuing to monitor the impact of the Insurance Act on the market, both informally and through surveys of members and partners. Last month, the association's chairman, Clive Clarke, said that feedback from Airmic members on the interpretation and practicalities of the Act was extremely important.
Read Airmic's guidance on the Insurance Act here