On behalf of the Airmic board, I would like to say a heartfelt thank you to John Hurrell for everything he has contributed - not just to Airmic but to the broader field of insurance and risk management.
During the nine years John has been chief executive, it is hard to overstate the impact he has made and the progress achieved on his watch. Airmic was already a well-established and respected organisation, but John saw the potential to take it to another level. From day one, he injected professionalism and financial strength, and built a hard-working and talented team.
With these foundations in place, the association has gained a reputation for first-class thought leadership and developed a training and technical agenda for its membership that has thrived. The vibrant association we have today is the direct result - record membership numbers, a fastTrack scheme for young professionals, and the best annual conference in the industry!
During the near-decade John has been at Airmic, the risk management world has evolved beyond recognition. Ten years ago, the word "risk" was barely seen on a boardroom agenda, except perhaps as a compliance-related afterthought. Not so today. Boards want to know about risk management - not only how it can prevent crises, but also how it can add value. In short, they want to hear from our members.
Many factors have driven this change, but Airmic has certainly played an instrumental role, with John working tirelessly to champion the positive impact of effective risk management. Airmic's strong relations with groups such as the Chairman's Forum and the Institute of Directors bares testament to that, but the Roads to Ruin and Roads to Resilience research are perhaps the best example of Airmic's contribution. They rightly remain two of the most influential pieces of research in the risk management field.
Airmic has become the linchpin in the insurance market - bringing insurers, brokers and buyers together. Undoubtedly, one of John's strengths has been his determination to be - to use his phrase - part of the solution. Clear that Airmic should not just voice its concerns with the market, under his guidance, Airmic has made a concerted effort to lead the way in finding answers to the challenges of the day.
The association's leading role in helping to overturn a century-old method of writing insurance and replacing it with the Insurance Act is the best example. But there are many more, including Airmic's influence on claims best practice, day-one policy issuance, the reservation of rights and the Enterprise Act to name just a few.
But the real secret to John's achievements, is that he has placed the Airmic member at the heart of all his decisions. I have lost count of the times I have heard him ask what will be the benefit to our members? And rightly so. We are a membership organisation to the core, and John has understood this better than anyone.
As John's chairman and board member, I have huge respect for him both professionally and personally. He has the answer to most problems and knows how to get the best out of his chairman, board and team. He has been a delight to work with, and on behalf of all of us at Airmic - thank you!
Since John's decision to step down, there have been countless warm words of appreciation for John voiced across the market. We have included just a few below.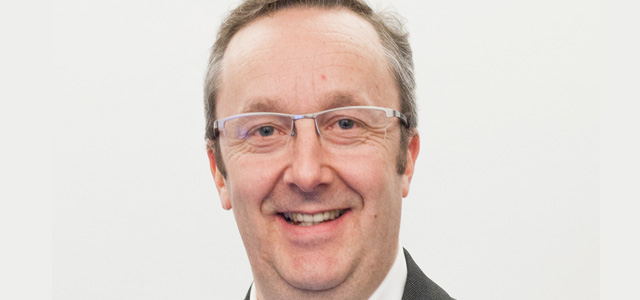 Clive Clarke, Airmic chairman
Tributes:
"John has treated his staff as family, not only as a CEO but also on a personal level. He's been a very supportive, inspiring and motivating CEO. It goes without saying that the whole team will miss him terribly." - Elin Johannisson, PA to John Hurrell
"It was a delight for me to announce John's appointment at the Airmic Annual dinner in December 2007. He appeared to be the sort of person who could bring business acumen and foresight to the organisation and strong leadership for the secretariat. John has been a real asset for Airmic - an engaging 'front man' who has promoted Airmic and its members with dedication and style." - Colin Campbell, Airmic chairman 2007-8
"I had the privilege of being the first chair of Airmic to work with John following his appointment. Building on the legacy left by his predecessors, with his chairs, board members, members and partners, John has led the development of Airmic to become the respected and influential association it is today. John has been a trailblazer and role model in the risk management world." - Julia Graham, Airmic deputy CEO, and Airmic chairman 2008-9
"Airmic and Lloyd's have been working ever-more closely together under John's leadership and it's been a pleasure to support him particularly on the drive to professionalise the role of risk management and attract and retain talent. His engagement on the need for innovation in insurance has also been highly valued." - Inga Beale, Lloyd's CEO
"From a personal perspective John has been great fun to work with and we have enjoyed many occasions together. In many ways he is quite a humble man, a noble trait, which serves also to illustrate his strong work ethic and ability also to think of others. He can be long suffering, as with Charlton FC whom he loyally supports." - Nick Hughes, Airmic honorary secretary.
"John has been a leader in driving the industry towards more contract certainty, speaking out about the difficult issues on which others often kept quiet, and playing a leading role in changing the legislation behind all commercial insurance contracts. He has transformed Airmic over many years into an influential voice on which Government could rely to understand the views of customers and the market more widely." - Bruce Hepburn, MacTavish CEO
"John brought a style and gravitas to the position and this reflected itself upon the organisation as a whole. John's legacy is leaving Airmic in a position to push ahead, leveraging its substantial strengths in an era of radically-evolving business models, disruption and the changing face of global, strategic and operational risks. John was always open to 'pushing on' and always with good grace, good humour and a sense of fun." - Patrick Smith, Airmic chairman 2015-16