"I genuinely believe that our members have never faced more opportunity and more threat to their roles as risk managers," John Hurrell reflects, just two weeks before he retires as chief executive of Airmic. And given that he has spent the past nine years with a unique insight into the world of corporate risk management, his words should not be taken lightly.
According to Hurrell, not only are the risks that businesses face changing in fundamental ways, so is the way businesses are approaching these risks.
First, risk management has soared in importance in the minds of senior management. By way of example, Hurrell cites Airmic's joint project with the Chairman's Forum last year. "We approached a series of boardroom executives from top organisations and invited them to talk about risk management - and the response was incredible - they all wanted to talk about risk. It is a topic of real concern for them. Five years ago, we'd never have got that response."
"Risk managers will be in more demand than ever"
Second, risk governance is becoming part of every business function and every manager's role, Hurrell says, or at least, that is the direction in which we are moving. Hurrell believes that a risk manager's job "will therefore be to effectively do themselves out of a job by mainstreaming risk!" But in reality, he explains, every organisation will be changing so rapidly that risk managers "will be in more demand than ever." He explains: "Risk managers won't have sole ownership of risk, but they will have to constantly embed the management of new risks and new types of risk into the organisation."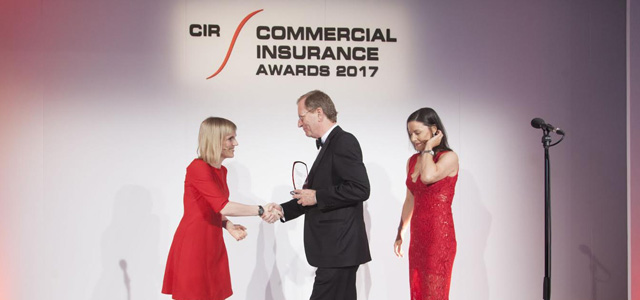 John Hurrell receiving the Pioneer Award at the Commercial Insurance Awards 2017
This, he says, is shaking up the risk management scene. Hurrell has seen this change coming for some time, and has been preparing the ground for Airmic members to rise to the challenge. "There's a risk vacuum at the top of many organisations and we have been asking, how can we ensure that it's our members that step into that vacuum?"
Airmic's highly-acclaimed research series - Roads to Ruin (2011) and Roads to Resilience (2014) - was part of that mission. "Those reports gave our members, for the first time, tangible evidence of the true value of risk management to put in front of their boards and get them to sit up and listen," he says.
"It's about giving our members the confidence at the boardroom table"
Hurrell also mentions Airmic's Leadership Development Programme, launched two months ago, as another example. The programme is designed to give ambitious risk managers the broader business skills they need to take a more strategic role in their organisations. "It's about giving our members the right content, the language and, above all, the confidence to talk about risk around the boardroom table." And will we see more Airmic members having access to the board in the future? "Yes," he responds. "Absolutely."
Turning to insurance, Hurrell has enjoyed a constructive relationship with the market and has had some big wins in his Airmic career. He will be most remembered for his role in helping to overturn the legislation behind all commercial insurance contracts, culminating in the 2015 Insurance Act - an epochal moment in the history of commercial insurance. It's tempting with hindsight to see it as inevitable, but it was the painstaking result of years of working with the Law Commission, lobbying government, winning hearts and minds in the market, and carefully navigating a complex political system.
"Insurance for intangible assets hasn't really started"
But for all Airmic's achievements, there is one area where Hurrell clearly feels progress has been too slow: the ever-tricky subject of insurance innovation. "Today, almost any product on the market - perhaps with the exception of cyber - could have been bought 25 or even 50 years ago," he says. "The move towards providing insurance for intangible assets hasn't really started."
This is not for lack of effort, he notes. "The willingness is there and we at Airmic have tried, but the process gets bogged down by factors such as a lack of data, a reluctance for insurers to work together (due to competition laws) or Solvency 2 capital allocations," he says. "The soft market hasn't helped either."
Will we ever get there? "It's a real challenge, but the market will have to find a way. The current insurable risks are not as important to businesses today in relative terms. Most businesses don't own as much by way of factories or physical assets but they do own intellectual property and brands, and depend on technology, supply chains and good reputations this is what they care about. Unless insurers can build responses to these new risks, the insurance industry will lose its relevance over time."
"It's in a hard market that our members can thrive"
The backdrop to Hurrell's time in charge has been a seemingly unending soft market. Typically seen as good for the buyer, Hurrell is not so sure. "In the short term, a soft market is clearly good for our members. But in the long term, it presents challenges."
In particular, he notes that the long-term squeeze on insurance profits is jeopardising the services provided to members and hampers efforts to innovate. "It is also hard for our members - who are real experts in their field - to add value if anyone can get a good deal in the market. It's actually in a tougher market that Airmic members can thrive and show their skill on behalf of their companies."
Contrary to most commentators, Hurrell thinks there are signs that the soft market may be coming to an end. "The 2016 results season for insurers was markedly worse than 2015, and with combined ratios in the mid-high 90s and early indications indicate a further deterioration in 2017 to date-, something has to give. It's early days but this could be the turning point."
Despite all the change during the nine years, there are some things that remain the same. Hurrell reflects that the risk manager was and continues to be a lonely role. "Many of our members are the only people in their organisation who do their role. Very few people truly understand what they do. That's where Airmic's strength lies. We provide them with a network and a resource that they can't get elsewhere."
"It has been vital to me that members drive this organisation"
What has also remained undiminished is how much Hurrell has enjoyed his time at Airmic. "The first thing that struck me was how liberating it was to work for a small and responsive team of people. I could get on and get things done without getting bogged down in corporate bureaucracy. It's the best job in the business because you can really change things for the better."
Hurrell is keen to pay tribute to his "terrific" team at Airmic. "The secretariat really are fabulous and a big part of Airmic's strength. I couldn't have achieved anything without them. Their technical expertise, the relationships they build in the market and the events they produce are all first class."
He also recognises the importance of the committee and board structure that serves as the conduit between the membership and the secretariat. "All of the many committees and the Airmic board - filled by people who give up their own time with such enthusiasm - do an amazing job of representing our members. It has been vital to me that the members drive this organisation and thanks to our governance structure, I think we have achieved that."
Hurrell is thrilled with the appointment of John Ludlow as the next CEO and sees it as a product of how far the association has come. "The fact that we could attract such a high profile person as John is a testament to the Airmic brand. His appointment is the icing on the cake."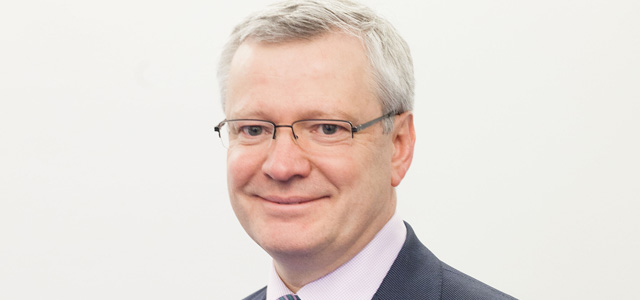 Incoming Airmic CEO, John Ludlow
"I hope to be back in some capacity"
And what next for Hurrell after he says farewell to Airmic at the annual conference in Birmingham? "I don't have any firm plans but I do want to be of use," he comments. So no retiring into the garden then? "Not yet! I do want to spend more time with my family, some of whom live abroad, so I hope to visit them more. But I don't want to disappear altogether, I hope to be back in some capacity."
Hurrell is open minded about what he might do next, but he does offer a small clue. "For my next move, I will be asking: can I add value? And will it be fun? And if the answer to both is yes, then I'll consider it!"