UK businesses heavily reliant on migrant workers from within the European Union (EU) will be watching Brexit negotiations closely. If the final deal restricts the free movement of workers into the UK, several sectors will see a major shift in workforce dynamics.
According to the Chartered Institute for Personnel and Development (CIPD), there were 2.26 million EU nationals working in the UK in September 2016. More than half (56%) of these workers are employed in either wholesale and retail, health and social work, accommodation and food services, construction and manufacturing.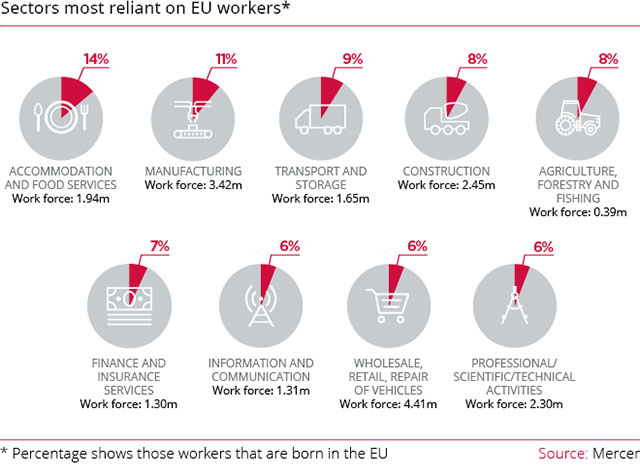 EU nationals' plans post Brexit vote
CIPD's Labour Market Outlook for Winter 2016-17 found that almost one in three (29%) employers say they have evidence that EU nationals looked to leave their organisation and/or the UK as a result of the Brexit referendum in June 2016, and a similar proportion (27%) expect them to consider doing so in 2017.
These figures are even higher in the public sector, where two thirds of organisations employ EU nationals and 42% have seen staff leave as a result of the referendum. It has been reported, for example, that the number of EU nationals registering as nurses in England had dropped by 92% since the vote. 
Agriculture and construction could be hit hard
Until assurances are made over the security of foreign workers' positions, uncertainty will remain and it will be difficult for companies to reassure their staff to stay in the UK. There is particular concern in the food and agricultural sectors, which have been built around the single market, common agricultural policy and the free movement of labour. Without these foundations, they are effectively starting from scratch. The agricultural sector in particular is already seeing higher wages as a result of a smaller talent pool.
There is also concern in the construction and engineering sector that Brexit will exacerbate existing workforce pressures. As competition for staff increases, wages are expected to rise, putting pressure on profit margins and driving up the price of goods as well as employee-related insurance coverages. This will put contractors in the construction sector in a perilous situation as they may not be able to deliver projects at the price they tendered.
Higher wages will also make employees more likely to move jobs in search of better pay. And with fewer EU-born replacements able to fill positions, the workforce could become more transient. This presents a risk to contractors as they could end up with a less familiar workforce and therefore a potentially increased health and safety hazard.
Managing the workforce risk
In JLT's experience, companies with stable workforces usually have better personal injury claims experiences owing to superior workplace safety and team culture, as well as staff loyalty, and we advise businesses to focus on risk management as their workforces come under stress.
It may be tempting to view insurance as a backstop; however, a worsening claims experience will impact upon the premium or excesses borne by that company. Employing foreign workers is not without risks of its own - employers, for example, must overcome language barriers when training or briefing foreign staff on procedures. However, replacing trained staff with untrained locals may present a much greater safety risk.
Most of the foreign labour force has been in this country for a long time, so has been highly trained with specific skill sets. To suddenly replace them with people with no experience doing knife work or operating agricultural equipment, for example, you must anticipate that accident rates will rise. The onus is on employers to strictly enforce health and safety policies and train new staff to ensure they are swiftly brought up to a skill level appropriate to the job they are doing.
Retention will be key
Faced with potential labour shortages and changes to EU immigration policy, businesses may be forced to operate with reduced workforces or to absorb extra cost to retain or employ EU nationals. With wages set to rise and competition over staff likely to intensify, companies should consider which roles are critical to their ongoing success and work hard to retain staff in these positions.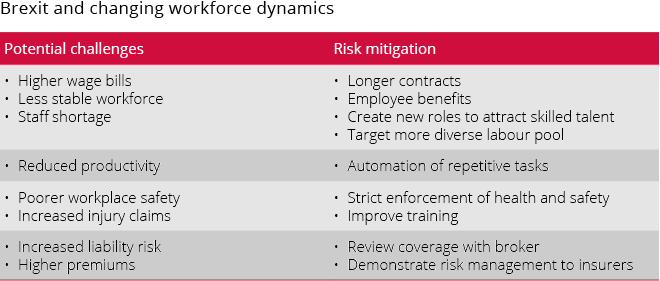 In an environment of increased competition, employers may wish to consider employing staff on longer contracts and working with their brokers to tailor flexible employee benefits packages in a bid to attract, incentivise and retain workers. They should also consider how to diversify their workforces and make jobs more attractive to new talent.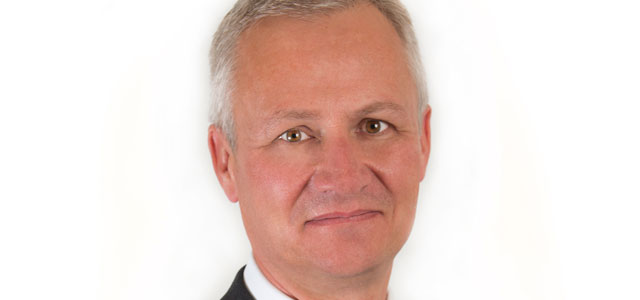 Stuart Winter is managing director for JLT Specialty's Regional Risk Practice.