The last year was one of great challenges to our supply chains, with a continuing global pandemic impacting our traditional processes for assessing and managing the disruption to them as well as experiencing the most active Atlantic storm season storm season on record.
Whilst these challenges proved to be very difficult and in some cases preventative to normal methods of data, they became a real opportunity for the new technological advances within the fields of data gathering, analytics and insight that managed to rise to these challenges and show the capabilities now available to support modern risk management practises.
In fact, 2020 highlighted the need we have for crucial and timely insights. The data intelligence captured by our platform is shown in the infographic we produced at the beginning of the year into the effects the Covid-19 outbreak was having initially throughout India and China upon supply chains within the pharmaceutical industry (infographic can be seen here).
With business interruption spreading due to lockdowns across the major manufacturing plants and API (Active Pharmaceutical Ingredients) producers, the impact further down the chain could be tracked and forecasted in real time using advanced machine learning techniques and the collection and analysis of millions of pieces of external data.
Thus, keeping clients aware of their potential exposure and allowing them to make informed decisions about their risk portfolios. The importance of using the insights garnered by modern software platforms has become key in adding relevancy and immediacy to the traditional over reliance on internal data sources.
In essence. The practical and useful view of supply chain impacts is now possible. To use the example above of the Pharmaceutical market responding to the progressing pandemic with the ability to use a platform such as ours means the client experience is vastly different.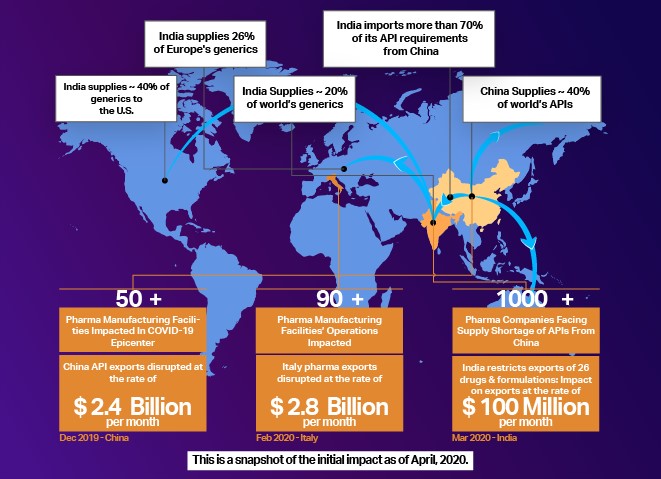 When Wuhan shut down and as the pandemic restrictions spread, we could immediately see the initial shutdown of 50+ Pharma manufacturing facilities in China, not only disrupting their exports at a rate of $2.4bn a month but also in real time, we are able to inform of alternative supply chains through India, France, Hungary and Bangladesh as well as potential business interruption issues that may be faced according to a client's specific risk portfolio.
Then, as the closures spread to Italy and led to 90+ Pharma Manufacturing facilities being impacted, therefore disrupting exports at a rate of $2.8bn per month, clients could update their assessments with a new set of alternatives, allowing for better informed decision making at this stage.
As the supply shortage from China hit manufacturing in India, they imposed export restrictions on 26 critical APIs/Drugs as a way of stockpiling so again we could then show in real time the business interruption potential and the opportunities still present for alternative sources using Ireland, Switzerland and Germany for example.
The aforementioned 2020 Atlantic storm season presented a new series of challenges which hit the Energy sector particularly hard. However, by using these new technologies we were able to not only track real time impacts to the platforms and facilities (infographics for specific storms can be found here), but also to look further into the data and develop crucial insights that could be immediately shared to the market. This technology brought to light how the closures of facilities spread through supply chains and affected more than just the initial energy sector.
These insights found through our supply chain analysis of the two most impacted companies of the season, those being Indorama Ventures and Ineos Olefins & Polymers show how the season hit more than just the Energy sector.
Firstly, Ineos Olefins and Polymers, one of the major producers of Propylene Homopolymer, used in a very wide set of industries including some big consumer focused ones such as Textile, Healthcare, Automotive, Chemical, Electrical and Construction will all be facing serious production issues that it is now possible to not only trace but also provide alternative solutions for.
Secondly, the packaging industry will be highly affected due to its reliance on the use of Polyethylene Terephthalate, with 80% of its total production being used by the industry. The closures and disruption to their facilities and the production of this material being in short supply, we can predict the impacts to many further industries who rely on these shipping and packaging materials that are heavily produced by these companies and show clear paths to alternative supply chains.
The need for key information provided in a timely fashion at the moment of these major events is now driving the development of new technology platforms. Bringing this crucial information to where it is needed most is no longer a possibility but a reality, and one that has proven itself in the most challenging of times. The truly exciting thing is that not only is it possible to show an overarching view of how our supply chains are interconnected, but also the ripple effects that go across industries, geographies, and product lines and how these can be supported with alternative options through the use of new data intelligence techniques available today.