The risk profession is struggling to exploit the opportunities created by big data, with many businesses placing it in the "too big to handle" box, according to Airmic. In response, the association has published a guide to using data for enterprise risk management, and is urging its members to improve their analytical literacy.
According to a survey of Airmic members, 50% of respondents state that their use of data is limited, citing a number of challenges from poor quality of information to a lack of understanding on their own part. The paper, Driving the data dividend. Making use of analytics in risk management, written with Aon Risk Solutions and Ventiv Technology, addresses each of the challenges and proposes a model for data-driven decision making for risk professionals.
"Data is vital for effective risk management," according to Georgina Wainwright, research and development manager at Airmic, and author of the report. "Most risk managers have got a pretty good grip on the traditional risks facing their organisations.
Big Data - What is it?
Large in volume
Multiple source - including internally and externally collected data
Large in variety - including structured (organised and categorised) and unstructured (unorganised) data
Gathered at greater speed than traditional data sets
Has the potential to add great value
Source: Driving the data dividend. Making use of analytics in risk management, Airmic 2017
"But for the news risks - where the insurance market is non-existent or immature - companies need to do more to understand the new vulnerabilities, dependencies and opportunities. The only way to do this is through better use of data."
While data has always been at the heart of risk management and insurance purchase, in the last few years, there has been a proliferation in the availability of "big data", thanks to technological advances and a reduction in the cost of computing. According to Airmic's guide, 90% of the world's data didn't exist two years ago.
It explains that risk managers "will need to educate themselves not only on how to approach data-driven decision-making but also the technological developments that will increasingly dictate where data comes from and how it used." In particular, it warns that risk managers must understand and adapt to developments such as the Internet of Things and Artificial intelligence, "to remain relevant."
According to Mrs Wainwright, most Airmic members understand the need to improve their use of data analytics, but say they face a number of obstacles in improving the data maturity of their organisation.
"For example, one of the most common complaints we hear, is the difficulty of accessing good quality data from within their own organisation," she explains. "Members report that other business functions can be reluctant to share their data, especially when it relates to near-misses and things that have gone wrong. As a result, the data that reaches the risk function can be sanitised.
"We have found, and we explain this in the guide, that there are different tools and approaches that can ease this problem. For example, members that successfully linked the need for data to the wider objectives of the business, got a better response rate."
Other key barriers highlighted by Airmic members include:
Lack of budget;
Inappropriate infrastructure;
Insufficient support within the business;
Difficulty ensuring quality, consistency and accuracy of data.
What is your data maturity level?
Read Airmic's guide to data analytics to find out where your organisation sits in the four stages of analytical maturity.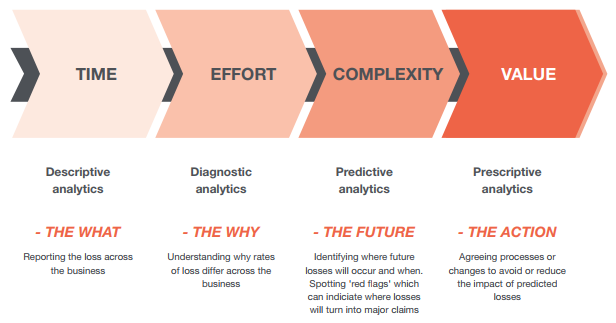 Businesses cannot immediately start using big data to identify relationships and trends, according to the report, which recognises that "time and resource" must be invested first.
This can be daunting for businesses and risk professionals, notes Philip Songhurst-Thonet, head of risk consulting at Aon Risk Solutions, one of the contributors to the research. "The key is to start small and keep it simple and focused," he advises.
"For example, identify one area of the organisation where effective risk management can add demonstrable value to the business and then use this as a pilot study to showcase how better use of data is worth the time and investment. Once you have built up the business case in one small area, it is much easier to convince the board and other functions of its broader value."
Reputation management is one potential area where this could be effective, he adds. "This is an area of concern for many boards. As a risk manager, you should be asking how can we quantify the impact of reputation? What data sources can we use to do this? Could we be using information from social media sites to support our decision making? Find out what data sources are available and develop the business case from there."
The whole risk and insurance industry should be working more closely together on establishing how best to use data analytics, he adds. "Data can help a business better understand and manage its risks - this is good news for risk professionals and the insurance industry, it's a win-win situation. I'd like to see the industry shouting louder about its successes and sharing ideas for best practice."
Download Airmic's guide Driving the data dividend. Making use of analytics in risk management.