Businesses today face many challenges managing their cross-border risks – not knowing if insurance programmes are compliant globally shouldn't be one of them. Keeping up to date with changing requirements across jurisdictions or even knowing what questions to ask your broker can be daunting. Inadvertent breach of these laws or regulations may only be identified on disclosure of the insurance contract to regulators or during litigation. The breach might render the insurance contract unenforceable, exposing the buyer to an unexpected, uninsured loss, as well as the possibility of fiscal or penal sanctions.
Being aware of these requirements has never been more important as Britain draws ever nearer to its official departure from the European Union. 'Brexit' will undoubtedly have a significant impact on the UK insurance market and appropriate legislation will need to be introduced to separate the UK from EU laws, directives and other regulations.
Brexit ramifications will potentially be disruptive for the risk management community. Without passporting, straightforward insurance programmes placed from the UK across the EU could involve increased compliance and administrative complications.
To mitigate potential risks, shared standards in regulation are almost certain to be maintained in the agreed transition period and within the industry, UK brokers have cemented relationships with EU counterparts and insurers have opened European offices to smooth the transition for clients with EU exposures. However, it remains to be seen how many of these players will be able to navigate this new frontier whilst servicing their clients and addressing the complexities of cross-border regulatory compliance.
Risk managers must be proactive when addressing their international programme compliance. This paper presents a checklist of questions that they must ask themselves, the insurer or the broker to gain assurance on their compliance concerns and responsibilities.
The Insight Risk Manager Tool

Risk managers need access to consistent information to make an informed decision about the need and/or requirement to buy local cover. Airmic and Axco, with the support of insurers and brokers, developed Insight Risk Manager. This online tool delivers consistent up-to-date information in an intuitive Question & Answer format. It holds crucial country intelligence, clarifying complexities and grey areas relevant to local compliance and regulatory insurance requirements, policy conditions and premium payment terms.

The tool is free to use for Airmic members and can be used to interrogate an entire programme at renewal or to dip into information. Insight Risk Manager helps Airmic members to understand their policy compliancy and have more informed discussions with their brokers.
A checklist for compliance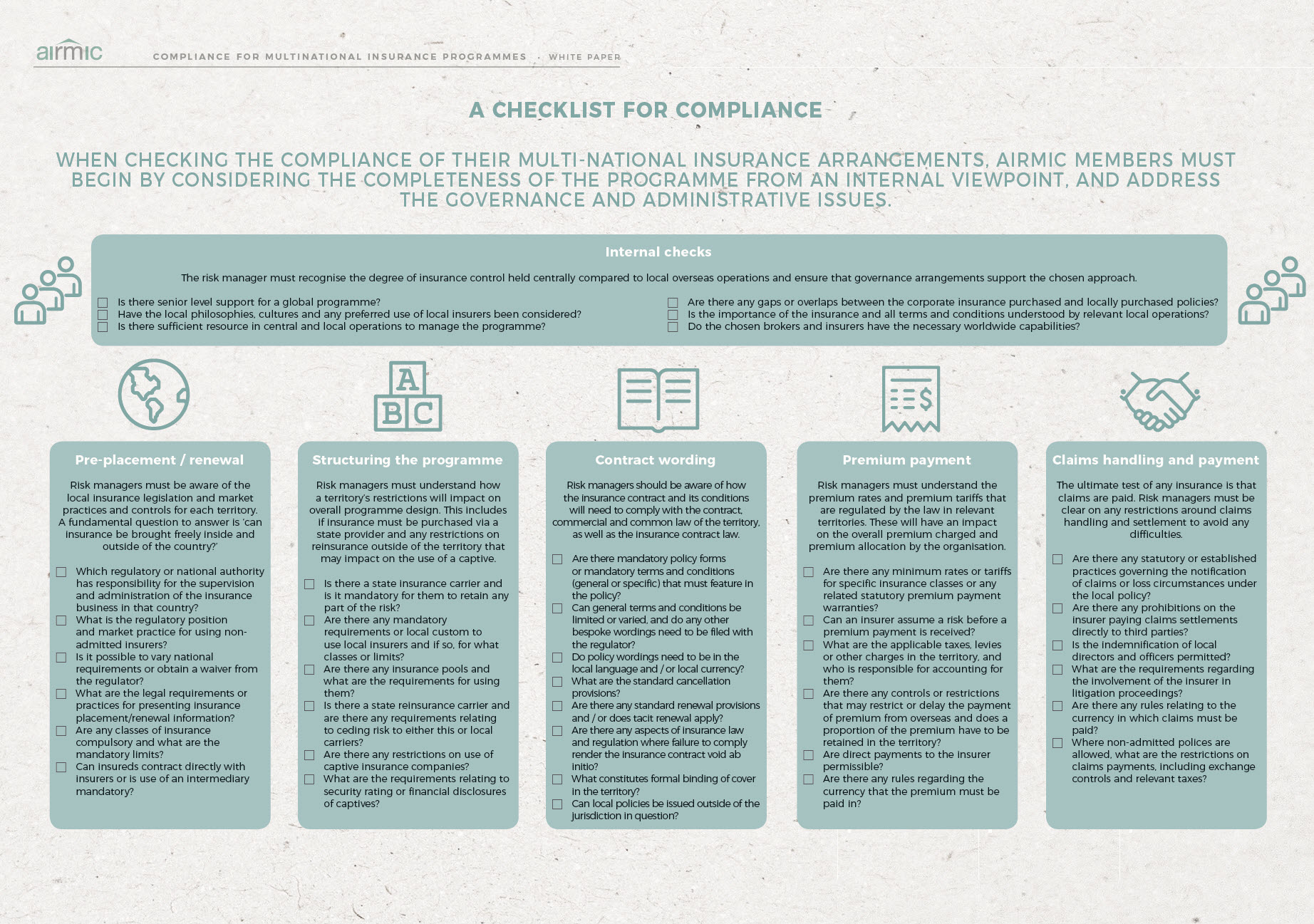 Click to enlarge
Insight risk manager - user guide
Airmic members can register for the tool here: airmic.com/axco
Select one or more countries from a database of 100 of the most relevant territories – the countries that account for more than 90% of all placed insurance premium.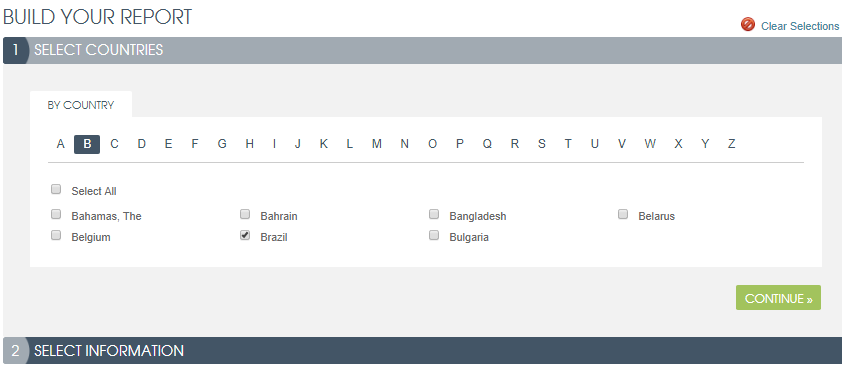 Select the information you need to confirm.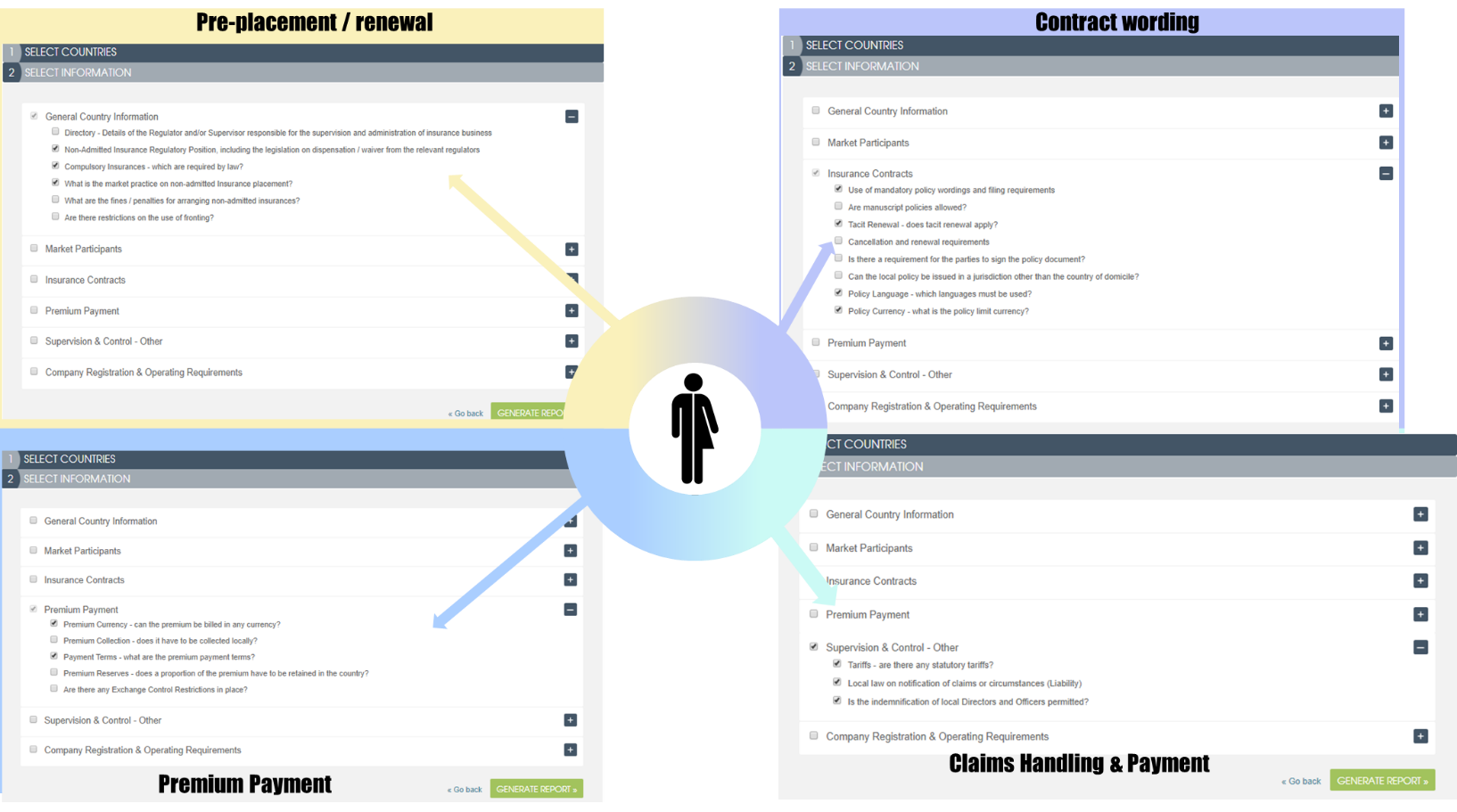 Generate your report.
The resultant information can be viewed either by topic
or by country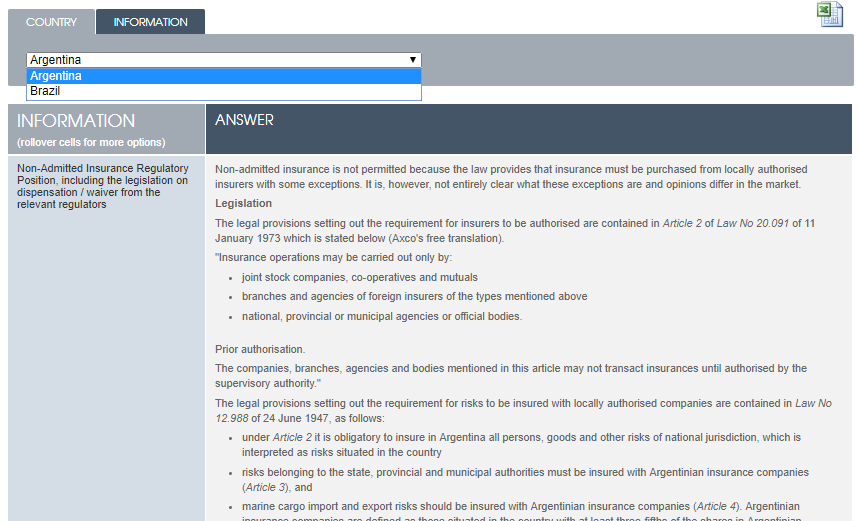 The information can be easily exported to Excel, particularly useful for a multiple country policy or the preparation of reports.
About Axco

Axco is the leading supplier of global insurance market information with over 50 years' experience in researching and publishing industry intelligence on insurance and employee benefits. Its unique business model and methods of research have enabled the development of an extensive suite of products comprising in-depth reports, focused profiles, Q&A databases, intelligent questioning tools and email services, which are delivered to every corner of the globe.

For more information on the services Axco provides, including in-depth country analysis and insurance market statistics, please contact Sophie Hancock:
axco@axcoinfo.com