"Insurance will only become valued as an effective risk financing mechanism when coverage, contract and claims certainty are fully aligned with client expectations"

Chris McGloin,
Airmic Chair, 2014
Why businesses need insurance
For most companies, insurance represents one of their biggest investments and their largest source of contingent capital. It protects them from events that might otherwise threaten output, jobs and even the future existence of the company. It makes companies more secure as business partners and places to invest.
To understand the importance of insurance to the viability of a company, a policy should be treated as having a value equal to the limit of indemnity that is purchased. If a company pays £2 million to purchase a £100 million limit of indemnity, the contract should be viewed as being potentially worth £100 million.
Companies buy insurance to protect their balance sheets, and to reduce volatility in the profit and loss account caused by large insurable losses. Additionally, the purchase of insurance is often required by regulators, clients and customers in relation, for example, to professional indemnity exposures. Finally, insurance can facilitate business activities by providing financial security needed to cover exposures such as those associated with mergers and acquisitions, joint ventures or expansion into new markets.
Ensuring that claims will be paid promptly
If insurance is to do its job properly, the policy's efficacy has to be tested and validated before inception for coverage, contract and claims certainty.
Issues to be considered when acquiring cover include:
Wordings can be very complex and include clauses and conditions that restrict the level of coverage. Definitions, exclusions and warranty requirements are sometimes misunderstood.
Policy issuance at or before inception is critically important. This may mean bringing forward the procurement or renewal process to allow more time.
Claims certainty is a fundamental requirement; it can be affected by the circumstances of the claim, how it is notified and how the insurance company responds to that notification. The buyer needs to understand in advance how the policy would work in a full range of different scenarios.
In the experience of Airmic members, the main reasons why insurance claims are not paid as expected by buyers are:
Failure to disclose material facts;
Breach of warranty or other policy conditions;
Inadequate level of insurance purchased;
Late notification of the claim; and
Policy wordings that do not cover the circumstances of the loss.
Even when claims are paid in full, the shortcomings listed above can cause delays. These, in turn, can lead to significant cash flow and accounting problems, and even result in a breach of banking covenants or require stock exchange notification by way of a profits warning.
To quote Anthony Hilton of the (London) Evening Standard: "Companies need to wake up to the fact that a lot of watertight insurance cover out there is potentially full of holes and investors should be aware that a lot of companies whom the auditors say are going concerns, may well turn out not to be if their insurance fails"
The need for a robust governance framework
This guide draws on the considerable experience of Airmic members, who are responsible for the efficacy of the insurance policies they buy. Insurance buyers are responsible for ensuring that claims pay out as expected. Achieving the necessary level of efficacy is challenging, especially when substantial policy limits are purchased by large companies. These issues need to be proactively managed.
Insurance programs require a governance framework that sets out the roles and responsibilities of the various parties, both internal and external. In particular, the Board must be satisfied that the arrangements provide the required level of coverage and the policy terms and conditions are reliable, adequate and represent appropriate use of funds.
Insurance buyers need to consider a very wide range of issues when purchasing insurance programs. These include program design, insurer selection, wording reviews, scenarios testing and claims protocols. Also, buyers need to be aware of the importance of warranties and conditions precedent, together with the potential impact of basis clauses. Significant planning and professional expertise is necessary. The professional support of insurance brokers can be an important part of achieving the required level of efficacy of insurance contracts.
Buyers need to validate that the insurance structure is compliant with regulatory requirements around the world. If a master policy is purchased in the UK, it is essential that the program complies with regulations in all countries where it applies. This will be especially challenging when a captive insurance company is involved. The new Insight Risk Manager database of international regulatory requirements developed by Axco for Airmic and is available at no charge to Airmic members.
Insurance disputes, pitfalls and remedies
Underpinning these considerations is the legal framework. At present in England and Wales, the Marine Insurance Act 1906 provides the default regime for insurance contracts. The Law Commission are planning, with Airmic's full support, to modernise the law. In the meantime, however, this guide seeks to help buyers achieve their objectives despite a framework that can be biased against them. They should also look to their brokers for support in achieving the required level of insurance efficacy.
If claims are to be paid as the insurance buyer expects, certain potential weaknesses in the policy need to be identified and corrected. Warranties and conditions precedent are examples of features that can cause nasty surprises. Claims handling procedures and the implications of subrogation actions following payment of an insurance claim can also undermine the contract. The concerns of many insurance buyers were summed up by an Airmic member: "as a risk financing mechanism, insurance is an imperfect hedge".
It is essential, therefore, to identify actions to minimise the potential for insurance dispute and to ensure that, should one occur, there are resolution mechanisms in place. Overall, the desired position for insurance buyers is:
that there is certainty about the coverage provided;
the policy document is available from the time of inception; and
procedures are agreed, so that claims will be settled as expected.
Guide to efficacy of insurance policies
This Airmic guide explores these issues in more detail and provides information on actions an insurance buyer may wish to take to increase the efficacy of the insurance programs. The need to update insurance contract law and achieve enhanced efficacy was summed up by an Airmic member in clear terms by the statement: "I am pleased that Airmic is taking on the issues around hidden basis clauses and warranties. Insurance law needs to be brought into the 21st century."
The appendices describe two important aspects of buying insurance policies. Table E1 is a summary version of Appendix A and provides an overview of the required outcomes when buying business insurance and the important actions that should be taken to achieve coverage, contract and claims certainty. Additionally, checklists are provided throughout the guide in relation to achieving coverage, contract and claims certainty, as well as checklists for governance of insurance programs and dispute resolution.
Table E1:
Summary of the activities involved in buying business insurance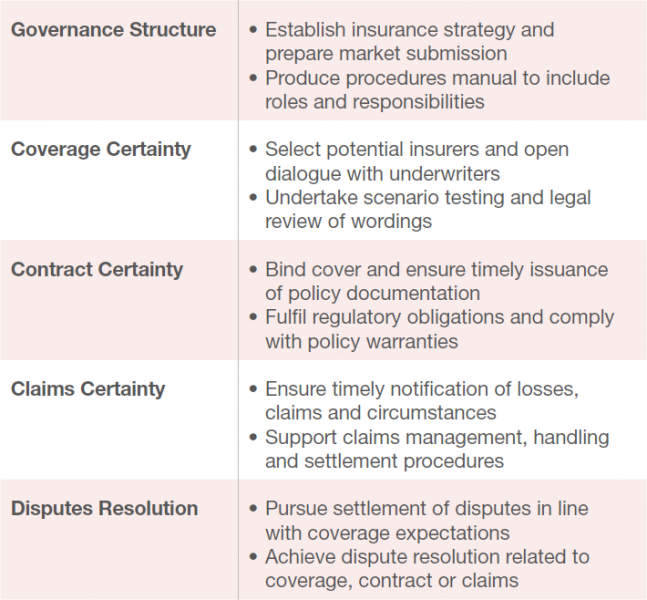 Table E2 is a summary version of Appendix B and provides a suggested timeline for achieving issuance of insurance policies at or before inception. The old attitude of 'deal now, detail later' is no longer acceptable. Day one policy issuance can be a challenge, but it is in the best interests of all parties.
Table E2:
Summary of suggested timeline for achieving contract certainty