Corporations are under ever closer scrutiny from an increasingly broad range of stakeholders, with risks (and opportunities) arising from matters as diverse as carbon emissions, community engagement and cyber threats. Road transportation, which is a critical part of the supply chain for many corporations, presents significant risk and yet it is often regarded as 'outside of the gates' because it is contracted out. 
Confining risk management to on-site activities is becoming increasingly unacceptable, and with over 300,000 of the 1.25 million deaths on the road each year attributable to work-related driving there is a clear case to consider it an integral part of sustainable business performance.
Management of off-site safety risks for both owned and contracted operations is typically weaker and less mature than for on-site activities.  Despite 36% of all occupation-related deaths occurring on the road, only a small number of leading corporations globally consider road transport risks a priority.  Of the world's 85 largest companies there is considerable variation by industry sector in prioritisation of supply chain safety: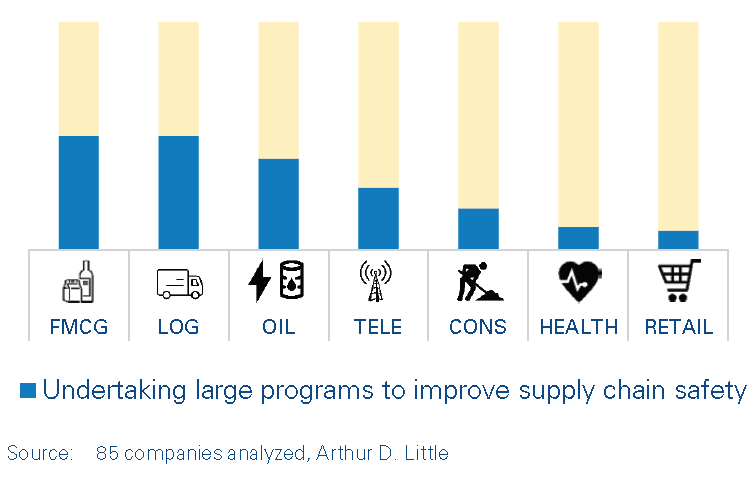 Broadening the scope of risk management to off-site transportation increases the harm to be addressed by around an order of magnitude ten, but leading corporations are embracing this because they understand the tangible benefits to be gained in the areas of business performance, supply chain reliability and strengthened corporate reputation.  Cost savings accrue from direct cost savings (compensation claims, repairs, recovery, insurance) and indirect costs (loss of production, reputational damage, management time).
An effective strategic programme will consider five key factors to realise these benefits:
Acknowledge the limits of control over third parties on public roads.  In low income countries with poor infrastructure, weaker traffic law enforcement and larger numbers of pedestrians, road conditions can be dangerous.  Evaluation of local driving culture, driving environment and underlying accident causes will better support smart and effective investments, rather than a uniform broad-brush approach.
Consistent collecting and reporting of data to support understanding of the risk profile; many organisations have no or limited records of off-site incidents at corporate level, even though these can impact on supply chain (and ultimately) business performance.
Developing suitable formal structures for managing supply chain risk in contracted out operations requires effective evaluation of performance on a long-term basis to support progress from a contract-driven approach to a culture-driven approach through nurturing long-term contractor relationships.
Cost-effective and sustained success requires tackling underlying causes of accidents and aligning driver programmes with company and local culture.  Initiatives must be systematic and wide-ranging, covering driver selection, behaviour, development and monitoring, as well as vehicles, technology and driving routes.
Corporations must recognise that technology can only ever support driver management and cannot replace it.  Whilst telematics and camera systems provide extensive data on driver behaviour we often see an accumulation of "guilty knowledge" where data is acquired but not acted upon.
We believe that the future is even brighter.  Companies that embrace emerging digital capabilities will unlock even more value by exploiting what are currently large and unwieldy disparate sources of data.
In summary, technology, culture change, driver engagement, contractor managements and data analytics all have a key role to play in exploiting the opportunities for cost savings and improved reputation that come from better control of transportation risks. The benefits of a tailored and wide-ranging approach to managing road risk are significant and outweigh the challenges and costs involved in their implementation.  The pressure to consider risks "outside the gates" is only going to grow, creating opportunities for leading corporations to benefit from reductions in reputational, financial and safety risks.
Marcus Beard is associate director at Arthur D. Little, and George Simpson is manager at Arthur D Little.