Trade wars, Brexit, global political uncertainty, ongoing unrest in the Middle East and an increasingly interconnected global economy are just some of the factors creating a complex new risk environment for international businesses to deal with. This new risk landscape requires a risk management rethink as no firm today is immune in this new environment.
Our latest Risk and Confidence report, which surveys 1,500 business leaders of multinational businesses based in the UK, Europe, North America and Asia-Pacific[1], clearly evidenced the changes taking place, with international supply chains, the global financial system, cyber and reputation risk all making an appearance on business leaders' risk radar. The research revealed that the top three business risks globally are all intangible risks that are hard to model and manage:
economic (cited by 20% of global business leaders),
cyber (16%)
technology (15%)
Reputations under threat from many directions
Whatever the original cause of the problem - supplier, a technology failure or cyber-attack - more often than not, the asset that is damaged is a company's reputation. With increasing business and social interconnectivity, an issue that occurs in one territory can cascade across borders, with news of a problem spreading rapidly across social media, impacting the good name of a business, its share price and customer confidence.
The rise in awareness of reputational risk was shown in our survey, which saw it rising faster than any other risk - up 29% globally, by a third in Europe and doubling in Asia-Pacific between May 2019 and May 2020.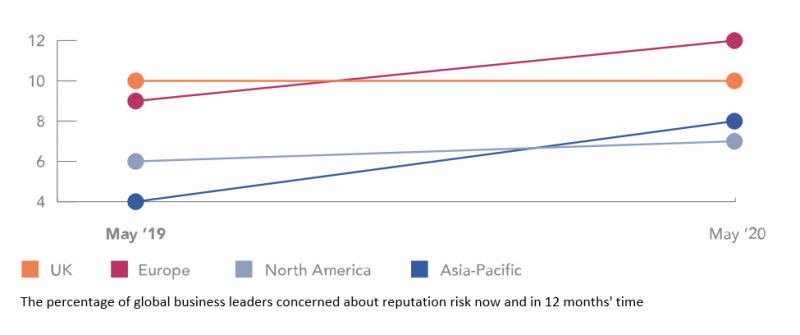 We also asked business leaders about the most significant challenges in managing reputation risk. Securing board buy-in narrowly topped the list but was closely followed by implementing a timely plan of action and maintaining brand value, particularly with business leaders in Asia-Pacific and North America.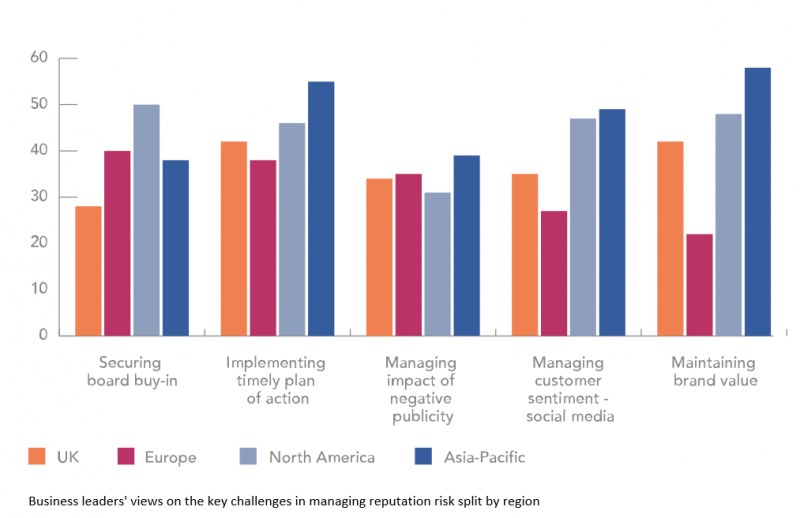 Don't overlook existing issues
With new risks appearing all the time, it's all too easy for the c-suite to get distracted by the latest issue hitting the headlines. However, there is a danger that more traditional risks and business continuity issues get overlooked. Our previous Risk and Confidence reports have highlighted that some risks are seen as less important to business leaders, and this continues to be the case in our latest survey with corporate risk (8%), compliance risk (11%) and supply chain risk (9%) still languishing at the bottom of the risk register.
Failing to pay attention to these still important sources of corporate danger is short-sighted. As John Ludlow, CEO of Airmic, recently noted at a roundtable we held: "Once you have the fundamental risks well-managed, then you can turn your attention to the new and less understandable risks. If you just try and manage the new risk frontier you will be let down by traditional risks."
Joining up the dots
Less than 20% of intangible assets (e.g. brand and intellectual property) are insured[2], despite brand value being at the heart of many of the world's largest firms. The insurance industry must start to deliver risk mitigation solutions for this new generation of intangible risk. This will, however, require a shift in mindset by both risk managers and the insurance industry.
Risk manages should push for the growth of a co-ordinated active community across all functions of their firm to ensure they have a joined-up view of the risks facing their business. And, from an insurance perspective, insurers and brokers need to work more closely together and focus on creating solutions to protect against reputation damage, supply chain breakdown and technology interruption to meet our clients' emerging risk mitigation needs.
Dave Brosnan is CEO of CNA Hardy. Click here to read a full copy of their global Risk and Confidence survey report.
[2] 2019 Intangible Assets Financial Statement Impact Comparison Report: a global study by AON and the Ponemon Institute - https://bit.ly/2VPsiCx