Business continuity and crisis management plans are being put under intense scrutiny by the events in Hong Kong, and many organisations have been caught off-guard, according to a leading risk management consultant.
Tom Teixeira, partner at Arthur D. Little, believes that while some firms did all they could in preparation for this scenario, some firms failed to take heed of early-warning signals that political tensions were rising, which could have enabled better preparation for dealing with the disruption experienced by many businesses with operations in Hong Kong over the last four months.
"Whilst many companies in the region had identified geopolitical risk as a key risk in their profile, there is evidence that some companies failed to take seriously the possibility of reaslistic worst case scenarios, and in a number of cases weren't as prepared as they could have been," he says.
Disruption has impacted travel, transportation, entertainment, catering and tourism sectors in particular. While the closure of Hong Kong airport in August was the most high profile incident, other examples of recent targets include the Maxim's Group (a restaurant chain, which also owns the Starbucks Hong Kong franchise) and Best Mart 360 (a local grocery).  These two businesses, including Starbucks, have been boycotted due to the alleged views of the companies' owners, and some outlets have been forced shut by targeted violence.
"People ignored the signs"
"No one could have said with any certainty that this crisis would have erupted at this time or in this manner in terms of the speed of developments and the impact felt," comments Mr Teixeira. "But equally, I do not believe this was ever an 'unknown unknown'.
"There were lead indicators – in the street, on the news, on social media – that could have given some idea that the probability of this outcome occurring was on the rise. People either ignored the signs or didn't put sufficient plans in place, perhaps given a false sense of security by the historically peaceful nature of protests in the city."
"More time to plan"
Despite visible tensions, the "risk velocity" of the current crisis has taken many organisations by surprise, says Mr Teixeira. The trigger was the government's proposed bill that would allow it to extradite criminals to mainland China. However, the eruption of pro-democracy protestors has revealed broader unhappiness with government accountability and the special administrative regions' governance.
Factoring in this type of scenario into risk management processes would have given companies "more time to plan", says Mr Teixeira. Companies in certain sectors have taken a significant financial hit from falling tourism numbers and cancelling services. High profile events, such as the famous Jockey Club horse races and the Hong Kong Tennis Open have also had to cancel events, and other sporting and cultural events are likely to be cancelled in October.
"If companies had picked up on the signs, they could have done risk-based scenarios, assessed what this level of disruption would mean for their business, and developed plans to keep operations going. These are clear hallmarks of managing emerging risks," says Mr Teixeira.
Business as usual for most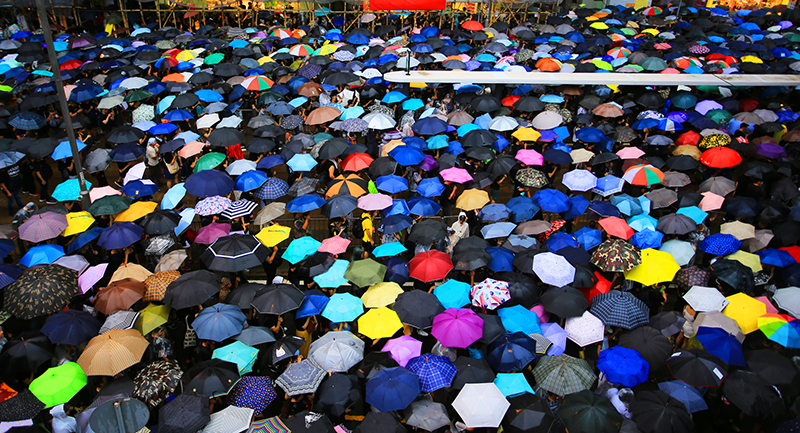 The political crisis has been going on for almost four months, during which time the level of violence has ebbed and flowed, with disruption peaking in August when protestors stormed and closed the international airport.
Despite the volatile environment, most office-based businesses with Monday to Friday opening hours have continued to operate as normal most of the time.  Hong Kong is considered safe apart from isolated locations. Likely flashpoints, such as shopping malls and government buildings, are avoidable with planning and common sense.
Airmic board member, Nick Hughes, is regularly on business in Hong Kong and says that the overall situation from Monday to Friday has been "business as usual". Until the past week, strikes and protests have tended to occur at the weekend and have therefore been avoidable, and while some are violent, most are conducted peacefully, he says: "Not all protests are as depicted in international broadcasts. The press seek out flash-points and broadcast terrible scenes, but this can give an unbalanced picture of daily life."
At the time of writing, the 70th anniversary of Communist Party rule in China has triggered fresh violence, which Reuters has reported as the "most widespread unrest" yet. Violence has escalated and protests have occurred during the working week, therefore impacting a broader range of sectors.
Information is key
Having access to timely and reliable information is one of the most important challenges for organisations trying to maintain their duty of care to employees and others for whom they are responsible and for ensuring business continuity.
Organisations are being advised to appoint an information officer who is tasked with monitoring protest channels, including social media and local news sites. However, International SOS, experts in travel security services, warns that businesses must carefully scrutinise all information and their sources.
"Monitoring the local media can be helpful, but given the fact that there are lots of unverified information and rumours, it is often confusing and alarmist to foreign travelers," the company advises.
"In addition to our own alerts, we recommend travelers to have local sources of information, including local offices, consulates and warden networks, for more up-to-date information that is corroborated, accurate and contextualized."
The company advises that businesses fully brief their employees in or travelling to the region, and ensure they are appraised of the current situation, security measures on the ground, feasibility of movement, potential for disruption at their port of departure, and upcoming events that may trigger an escalation in protests. Given the situational nature of the unrest, advice should be "specific to office location, exposure and travel itinerary".
Planning for the next phase
With the political unrest showing no sign of abating, businesses are being advised to plan for the "realistic worst-case scenarios", including further periods of escalation. Organisations should prepare, update and test plans continuously, says Julia Graham, Airmic's deputy CEO and technical director:
"All businesses potentially affected must revisit their crisis management plans if they haven't already done so. They must have a clear set of triggers so the team knows exactly what to do for different scenarios, and this must be communicated to the entire business and their eco system, including the supply chain as relevant."
She adds: "Risk professionals will need to work across their organisation's business units and functions to identify and prioritise the key threats, and work on an effective response."
International SOS also advises establishing pre-agreed red flags:
"A critical component in escalation planning is the need for a decision-making tool that allows an organisation to distinguish routine provocations and actions from genuine escalation triggers. Policies linked to in-country movement, inbound travel and decisions to withdraw non-essential staff – and eventually all staff – should be tied to these pre-identified escalation triggers."