Having been involved with Airmic since early 2003, it sometimes feels like I have worked for three separate organisations such has been the extent of change.
Remembering Airmic as it was when I started feels like another age. Yes, it was highly effective in its own way. When new FSA rules threatened risk managers with regulation, with the possibility that some risk departments might relocate overseas, Airmic responded with a ferocity and sense of purpose that astonished onlookers. Supported by a QC, hired at considerable cost, we persuaded the FSA to back down.
When Eliot Spitzer exposed the conflicts of interest in the way brokers conducted their business, the response of many other national risk management associations was to sit on their hands. Not Airmic. We demanded and achieved an unprecedented level of broker transparency. Later we became key players in the FSA-led initiative, known as 'contract certainty', to ensure that insurance documentation was delivered by inception.
However, although highly respected, Airmic was a reactive organisation. At the 2003 annual conference we did not have a single new initiative or report to unveil for the benefit of members or the assembled journalists. Apart from supply chain issues, the event was dominated by insurance topics, technical in nature rather than strategic.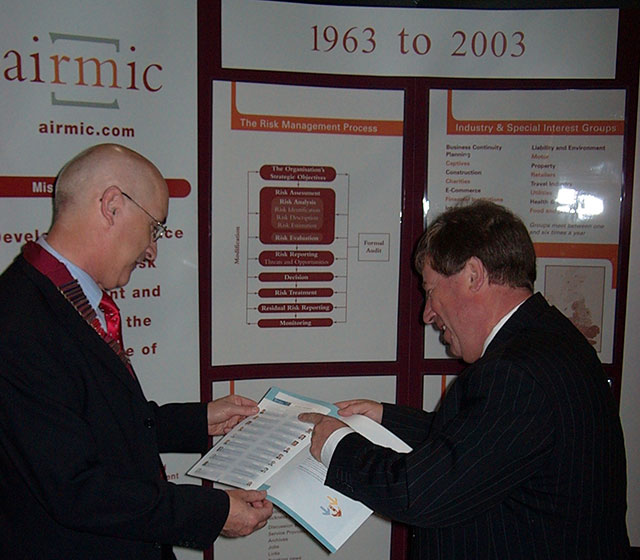 Airmic's 2003 conference at the MICC, Manchester
Radical developments and a new era
Then something quite radical happened.
Airmic Council (as the Board was then known) decided to change the business model. Market players like insurers and brokers were invited to become partners, and other types of sponsorship were also made available to companies that wished to get closer to the membership. Meanwhile, the annual conference became free to members, making it a more attractive event to risk managers and, therefore, to potential exhibitors.
Two big benefits followed. Firstly, Airmic had more money, enabling an expansion of the secretariat and the services to members. Most notably, it was able to create the pivotal post of technical director, a position taken initially by Paul Hopkin and now Julia Graham. Secondly, we gained access to the expertise of our sponsors and developed close working relationships with key players in the insurance market.
This was the platform that John Hurrell inherited when he became CEO; and he took the association to a new level. The number of activities mushroomed, often using new technology: Airmic Academy, Airmic Live, roundtables, various partner events and (more recently) fastTrack, the Leadership Group and the ERM Forums. Member involvement soared. Attendance at the annual conference kept on going up such that it outgrew many of its traditional venues like Brighton and Bournemouth.
The association became even more involved in insurance market issues, identifying and helping to find solutions to apparently intractable problems and agreeing voluntary protocols on topics such as reservation of rights and claims best practice. Our technical output also expanded dramatically on both insurance and non-insurance topics.
The jewels in the crown of this period, though, were the launch of the 'Roads' series of research reports and the Insurance Act of 2015. Roads to Ruin, produced for Airmic in 2011 by the CASS Business School, was ground-breaking and established the association as a player in the wider non-insurance risk management space. The follow-up report Roads to Resilience, produced in partnership with Cranfield School of Management, provided a valuable and well-regarded sequel.
The Insurance Act represented a supreme lobbying achievement by Airmic, replacing the legal framework for commercial insurance that had been in existence since 1906. Success owed much to the active support of the Law Commission, which took ownership of the project. The result is an environment that is much more even-handed and fairer to the buyer whilst, equally importantly, demanding higher professional standards from all parties. It was a huge step forward, and members are benefitting.
Embracing ERM and the digital economy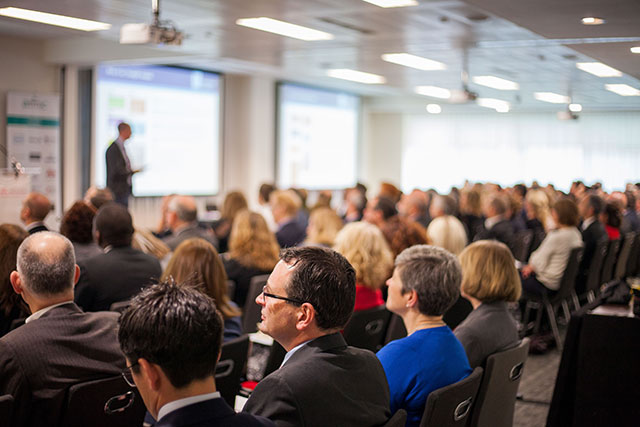 The 2017 Airmic ERM Forum
When the Board appointed John Ludlow CEO last year, they together set the association off on another highly ambitious journey, taking Airmic even further into the ERM field. Whilst recognising the vital role that insurance continues play in Corporate UK, all risk activity is placed in an ERM context and aligned with organisations' strategic objectives. Diversity has become a key objective, because it is good for business.
The new direction was amply reflected in the theme and content of the latest annual conference, The Future is Now, and the recruitment of two new partners from outside the insurance industry, the Institutes and Fujitsu.
Crucially, it means embracing the speed with which business models are being disrupted as new players find new uses for technology. Roads to Revolution, published last year, shows that the enormous opportunities of the 'fourth industrial revolution' come also with a new set of risks and governance needs. It also demonstrates, however, that these risks can be managed by extending established principles.
Airmic's technical output, overseen by Julia Graham and the small but highly productive secretariat, has grown in range and quality, as has the number of events on offer to members such as the September Academy technology day. Meanwhile, the association now supports members throughout their entire career journeys.
The future - and a new identity?
A really big challenge for Airmic going forward is to reach out beyond risk managers to become the association for anyone with a stake in risk management - an altogether larger, albeit amorphous group of people. This will involve lifting the image of risk management, so it is seen as something that business people desire rather than just feel obliged to do - a genuine enabler.
Although proud to have been associated with Airmic in all its forms, I would like to finish with a challenge. We need a new identity to achieve this last, critically important objective.
Our Roads to Revolution study made it clear that in today's fast-changing world, continuous reinvention is necessary not just for future success, but for the survival of the organisation. Airmic needs to create a new more inclusive and dynamic identity that communicates our values and aspirations. Airmic the organisation is modern and forward looking. Now let's make sure Airmic the brand is keeping pace.