When John Ludlow became CEO last June, he already had a considerable insight into both Airmic and the risk management profession. As a former senior member of the association's Board and the head of one of the UK's biggest risk teams, at InterContinental Hotels Group, he had already been outspoken on the future of the profession.
He saw massive opportunity for anyone with the necessary qualities to implement risk management as a strategic function. Crucially, though, he warned that risk managers needed to acquire skills other than their traditional technical and insurance-buying expertise, valuable as they will continue to be.
Risk managers, he said, needed to behave like businesspeople: to understand how business works in the round, to talk the same language, to be team players and to be able to align risk management to corporate strategy. The alternative was for risk managers to become marginalised as technicians rather than having the central, strategic roles that risk deserves.
Wind the clock forward a few years, and Ludlow is now in a position to put these views into practice, having taken over as Airmic CEO in June last year. So, what has he done?
He spent much of the final quarter of 2017 working on a business plan for the association and, whilst it has many other facets, supporting members in their professional and career development lies at its heart. "Airmic has long been recognised as a major source of information and guidance for its members, a job it has generally done well," he says.
What we have tried to do recently is make it a little bit sharper, more focussed - to give it an underpinning framework. There is now a clear pathway supported by a truly stupendous technical and thought leadership programme under Julia Graham and an impressive choice of talks and Academy workshops.
He cites the member development path, which began several years ago with fastTrack for those near the start of their careers. The Leadership Advisory Board was then established as a network and forum for the most senior and experienced risk managers. Now Airmic is about to inaugurate, with XL Catlin, a Business Excellence programme for people in the middle of their careers.
The Academies have been relaunched and are very well attended, contributing to a further rise in the already exceptional level of member engagement. The latest fastTrack Forum at the Willis Building in February was a huge success despite the atrocious weather. There was a good turnout for the Airmic lecture at Marsh, when the Financial Reporting Council director general Stephen Haddrill discussed the new FRC Code.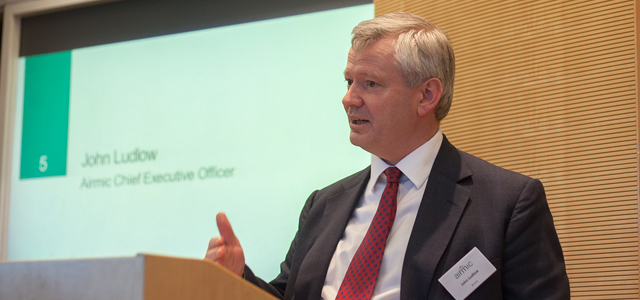 John Ludlow closes the Airmic evening lecture at Marsh offices
"We're giving members support, guidance and education at all stages of their careers, and ensuring that they understand the qualifications, experience and qualities they need to succeed as risk managers," he says. "We've also opened up a discussion about the so-called Fourth Industrial Revolution and the challenges and opportunities it will give our members, which will be developed further at the annual conference.  
Collaborating with our partners and other sponsoring organisations plays an important part in all this. Their expertise is invaluable, and I would like to think they are influenced in turn by the feedback they get from people who use their products and services.
Ludlow stresses, however, that there is still a long way to go. "There are many people out there who would benefit from what Airmic has to offer who are not yet members. We must continue to reach out and adapt if we are to achieve our mission."