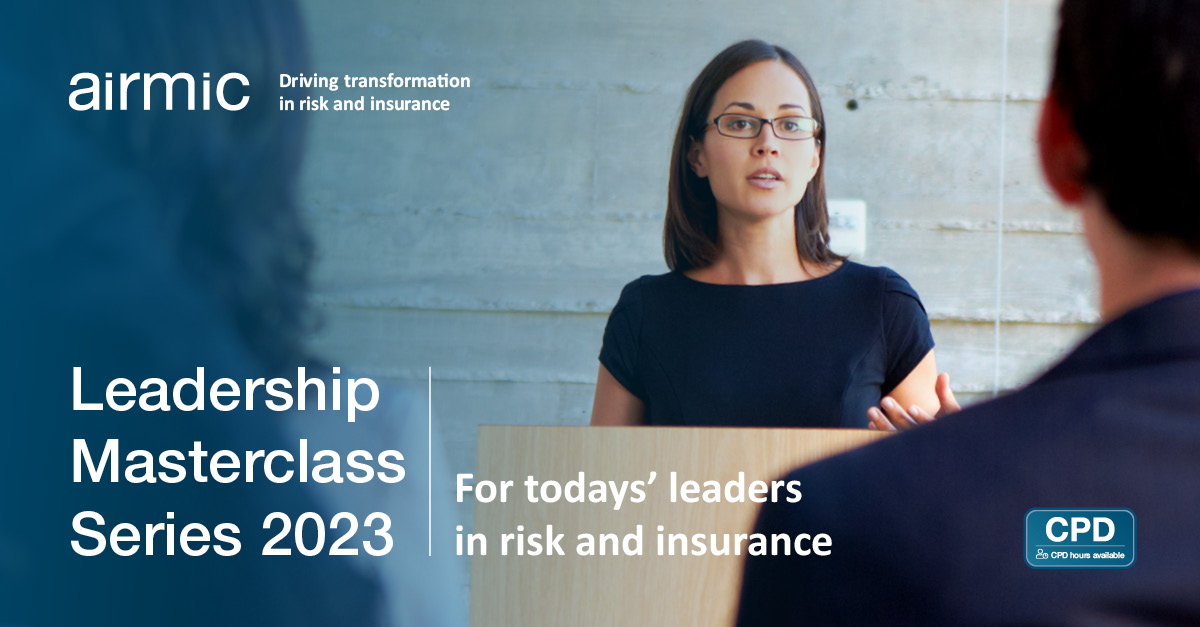 Designed as two-hour interactive breakfast-style sessions and held in person at distinctive London venues, each masterclass is led by a panel of leading speakers offering members a deep dive into crucial leadership themes all through a risk and insurance lens and with a keen eye on the current and future business environment. Networking opportunities are also included.
Free to attend as part of Airmic membership, although targeted at those in senior positions, the Masterclass Series is open to all Airmic members including those who want to develop essential leadership behaviours early.
We are excited to announce the five Leadership Masterclasses for 2023 as follows:
Masterclass One: The Economics of Now and The Future - Leading in Uncertain Times, 29th March 2023 (9-11am)
As domestic economies continue to grapple with the far-reaching international impacts of energy supply challenges, inflation, subdued growth forecasts, tight financial conditions, and threats of recession, leading organisations through such turbulent times is a challenge facing all leaders. Hear from economics and leadership experts as they debate the current economic landscape and how it can best be negotiated, future economic trends, the leadership competencies required to prosper, and the key risk management challenges for organisations.
Masterclass Two: Building a Sustainable Organisation, 17th May 2023 (9-11am)
Faced with the growing reputational risk of any inaction over their impact on the global and/or local environment, community, society, and economy, organisations are under increasing pressure to address their ESG commitments. Hear from sustainability and leadership experts on what the key ingredients are for a successful global sustainability movement, the part organisations and their leaders can play in it, and the links between sustainability and long-term sustainable business success.
Masterclass Three: Digital Leadership for a Digital Future, 5th July 2023 (9-11am)
Digital transformation is now common parlance in most organisations. The adoption of digital technology to digitise non-digital products, services, or operations to become a 'digital business' aims to increase business value through innovation, invention, customer experience, and/or efficiency. Failure to transform digitally will undermine and threaten the survival of many organisations. However, digital transformation is about more than just technology - it's about people. Many well-intended digital transformation initiatives often fail due to non-alignment with organisational culture. Hear from expert speakers as they explore the latest digital trends, the core components of successful digital transformation and the inherent risks, and the critical links between digital transformation and culture.
Masterclass Four: Rebuilding Employee Trust, Psychological Safety and Well-being, 4th October 2023 (9-11am)
The global Covid-19 pandemic has undermined the psychological safety of many in society, changing the way people think and behave, possibly forever. Such changes have been particularly evident in the way people want to work, and employers have had to tackle increasingly complex decisions around the nature of work, workforce, and workplace. Whilst people recover from the collective trauma of a global pandemic, other pressures at the same time have seen organisational budgets slashed, jobs lost, businesses reorganised, jobs changed, and performance pressures increase. At an individual employee level, burnout, emotional exhaustion, and mental challenges have emerged and trust in employers has dropped, all presenting a critical risk to organisations. Hear from experts as they explain how the employee psychological contract can be restored through effective leadership, employee-wellbeing strategies, and trust-rebuilding initiatives.
Masterclass Five: Leading through Climate Change - What Next for Organisations?, 29th November 2023 (9-11am)
Organisations urgently need to rethink how they approach climate risk. Whilst progress on meaningful global environmental regulations remains slow, the risk of severe climate change is rising, posing physical threats to many organisations. And yet, organisations can take action and continue to mitigate the risk to themselves, wider society, and the planet by embedding sustainable climate action into corporate activity. However, this requires clarity of thought and strategy, effective leadership, transparency, and credibility to be successful and long-lasting. In this Masterclass, a panel of expert speakers will examine what organisations need to do to lead from the front regarding proactive climate action and risk management.
To secure a place for any one or all of the Masterclasses, you can register now by emailing leadership@airmic.com. Please note that places are capped and offered on a first come first served basis. Therefore, by registering your interest you are occupying a place that another member may want and thus we ask that you commit to attending a date once registered.
Delegates attending all five Masterclasses will receive a digital badge / credential.